The baby personal care market includes product types such as cosmetics, toiletries, and other products. The baby care market ranges all the way from products for newborns to those aimed at children under 11 years old. Cosmetics are defined as baby skin products, hair care products, oral care, and bath care products. Toiletries are made up of products such as disposable diapers, fragrances, training pants (pull-ups), and baby wipes. Other products include organic baby care products, baby grooming products, and baby personal care sets & kits.

Currently, Europe, North America, and the Middle East account for a significant share of the baby personal care market. Older, wealthier moms and an increased number of women in the workforce has led to increased disposable income which has affected the purchasing power of the family; this factor is expected to increase the demand for baby personal care products across the world.

Baby care products are predominantly driven by trust rather than innovation. This anomaly leads to an increase in demand for organic and natural products and a tremendous surge in "free from" claims in baby care products. Parents increasingly demand to know what ingredients are NOT in a product, even if that seems counterintuitive.

Fragrance in baby care products plays a vital role in engaging young consumers. While traditional scents like chamomile and lavender may appeal to parents, older children prefer updated, modern fragrances like citrus and mint to differentiate tween products from baby products.

Cosmetics marketed to children require some specific warnings that need to be added to the product label to comply with Food & Drug Administration (FDA), Federal Trade Commission (FTC) and the Consumer Product Safety Commission (CPSC). One of these warnings is specific to foaming detergent bath products, otherwise known as bubble bath. Any bubble bath product intended for use by children and not distinctly labeled for use by adults must have the following warning statement on the label:

Caution: Use only as directed. Excessive use or prolonged exposure may irritate skin and urinary tract. Discontinue use if rash, redness, or itching occurs. Consult your physician if irritation persists. Keep out of reach of children.

To identify that a bubble bath product is explicitly intended for use by adults, the phrase "Keep out of reach of children" or "For adult use only" may be used. If the bubble bath is intended for use by children, the phrase can also state "Keep out of reach of children except under adult supervision."
As part of the Poison Prevention Packaging Act, some products also require child-proof packaging to protect against accidental ingestion or poisoning. In the case of cosmetic and household products, a few that come to mind would be:
Detergents (the Tide detergent pod issue comes to mind but this would include liquid or powder laundry detergent products)
Lye (sometimes referred to as caustic soda, sodium hydroxide or potassium hydroxide)
Liquid products containing more than 5% by weight of methyl salicylate (wintergreen essential oil and sweet birch essential oil both have very high levels)
Essential oils
Activated Charcoal
Another often overlooked issue is cosmetic products that may be choking hazards. When marketing to children under the age of 3, it is crucial to be aware of any components that could become caught in a child's throat. If you are unsure if a ball, small toy, cap closure or another component for your baby product is a choking hazard, you can purchase a small device called a "choke tube" or "small products tester" (created by the CSPC). If a small part fits entirely into the cylinder, and the toy or product from which it came is intended for use by children under the age of 3, the toy or product is banned because the small part presents a choking hazard. Toys that are or contain small pieces as manufactured and that are intended for use by children from 3 to 6 years old must be labeled to warn purchasers not to buy them for children under three years old because those children could choke on the small parts.
Are you wondering what small toys have to do with cosmetic products for children? Products that contain small toys, such as "fish in a bag soap" or bar soap containing hidden toys and bath bombs containing hidden toys or objects may be choking hazards. Packaging with small round closures (bottle tops), lip balm tubes used for "bath crayons" and other styles of small packaging are also choking hazards for small children. Choking is a leading cause of mortality in children, especially those that are less than three years of age. Children under the age of 3 explore their environment by placing objects in their mouth, and their smaller diameter airways are more likely to experience significant blockage by small foreign bodies
Products permitted under the CPSC Small Parts Regulation should include a warning on the product packaging as follows: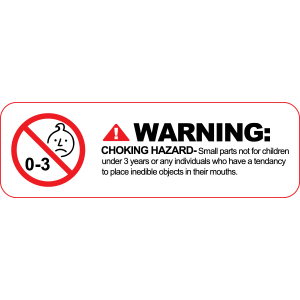 While the market for baby personal care products is growing, it is critical that you familiarize yourself with all of the rules, regulations, and requirements for marketing this class of product. Safety is crucial for this subset of the cosmetics market.