Micas
are among the most user friendly of colorants and come in a rainbow of vivid colors. Micas are made by bonding lab-created pigments to a naturally-mined mineral, mica, or synthetically derived fluorphlogopite. Lab-created and natural micas perform identically. Micas come in a variety of different micron sizes. The larger the particle sizes, the more sparkly the mica will be. Smaller micron micas are smoother and more opaque.
Micas are oil soluble pigments and do not work well in water-based products like room sprays, shampoos, or body washes. The mica sinks to the bottom of these products rather than disperse evenly.
Micas work well in cold processed soap and are among the most user-friendly pigments to use. Micas blend easily into soap batter. You can directly mix micas into your soap batter, if you like, though you may need to stick blend your batter more than you'd like for your planned design. Many soap designers like to pre-disperse mica in a bit of a light weight oil such as olive, sweet almond, or rice bran oil. You can also use a bit of your soaping oils. It is recommended that you disperse one teaspoon of mica in one tablespoon of carrier oil (1:3 ratio) to color one pound of soap. You can use more or less mica depending on your desired soap design. You can mix your micas in a small paper cup with a plastic spoon or popsicle stick. Our resident soap expert Teri Endsley likes to mix her micas with a palette knife on a piece of plexiglass.
Micas also work well in melt and pour soap. Instead of oil, pre-disperse your micas for melt and pour in 91% Isopropyl Alcohol. Disperse ½ teaspoon of mica in 1 1/2 teaspoons of alcohol (1:3 ratio) to color one pound of soap. Again, you can use more or less to create the look you like. Micas used in melt and pour soap will create a sparkly or pearly product. Micas used in white melt and pour will look more opaque.
Micas can be used in bath bombs, but be aware that they can leave an unpleasant ring around your tub. Using polysorbate 80 at a rate of at least 2% of your total oils and other liquids can help mitigate this. Even so, it's best to use a light hand with micas in bath bombs. I like to reserve them for decorative purposes only and use other colorants to color my bath bombs.
Micas can be used to color lotions and whipped body butters. You'll want to use a very light hand or you may end up with sparkly skin! (Unless you want shimmery, sparkly skin, in which case, use more!) Try using about 1/16 teaspoon of mica in 16 ounces of lotion and adjust according to your taste. Micas are also spectacular in lip products, too! Try using 1/16 tsp of mica per lip balm or lip gloss and see how you like it. Micas themselves won't provide much color, but will give you lips plenty of sparkle.
Not all micas are safe for all applications. You need to check whether a particular mica is lip safe before using it in a lip balm. Micas containing chromium oxide, hydrated chromium oxide, or ultramarines (this includes almost all blue and green micas) are not lip safe. Micas that are not lip safe are also not safe to be used in bath bombs. Some micas can color morph in cold process soap, especially some pinks and rose golds that contain carmine. Be sure to check that the mica you are interested in is recommended for a particular application before you use it.
Micas can easily be blended to create new colors, so get creative! You can lighten micas with
Titanium Dioxide
or darken micas with
Smooth Coconut Carbon
(activated charcoal). You can also mix neons or oxides with micas.
Oxides and Ultramarines
Oxides and Ultramarines
are even more color saturated than micas, but are a little trickier to work with. The vibrant color in this soap was made using Ultramarine Blue.
Oxides and Ultramarines must be pre-dispersed in oil or they will form little specks in your products. Disperse 1 teaspoon of colorant in 1 tablespoon of oil, to color one pound of cold processed soap for ultramarines and chromium oxide and hydrated chromium oxide. You will want to use half that amount (or less) for brown oxide and red oxide. Use ½ the amount of oxides or ultramarines that you would use in cold process soap in melt and pour soap dispersed in glycerin or isopropyl alcohol.
Ultramarines and oxides are not recommended in bath bombs or liquid soaps because they can release sulfurous compounds and be quite stinky! Ultramarines, chromium oxide and hydrated chromium oxide are not lip safe or bath bomb safe. Red oxide, yellow oxide, and brown oxide are lip safe and can be used to tint lip products.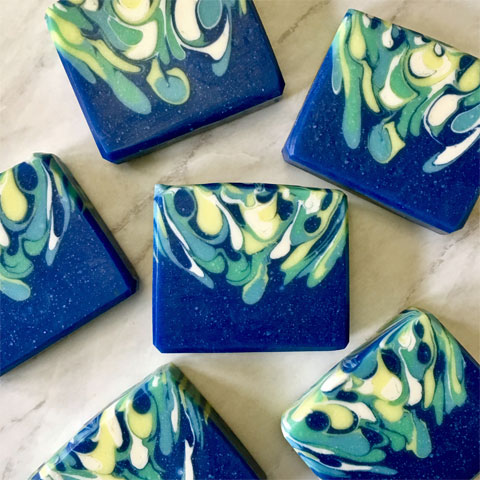 Titanium Dioxide
is one of the most commonly used pigments in soap making. It is a very opaque, white pigment that is naturally mined. It is safe to use in all products, though it's hard to imagine using it in bath bombs! Titanium Dioxide can be dispersed in either water or oil for cold processed soap, at a 1:3 ratio. It is easier to disperse in water, but you will need to stick blend it into your soap batter. You will have to very patiently mix all of the lumps out to disperse titanium dioxide in oil, but the resulting mixture will mix very easily into your soap batter with no additional stick blending. One teaspoon of titanium dioxide will whiten one pound of soap.
If used in excess, titanium dioxide can cause "glycerin rivers" where the soap takes on a crackled appearance. You can control for this be reducing the amount of water in your soap recipe. Titanium dioxide cannot whiten soap that has turned dark brown due to the presence of high vanillin content in a fragrance oil. It can whiten slight discoloration or a recipe that is not naturally white, however. Be aware that titanium dioxide can also speed up your trace a bit.
Titanium dioxide can also be used in melt and pour soap. Disperse your titanium dioxide at a 1:3 ratio in glycerin. You may never need titanium dioxide in melt and pour soap because you can always just use white melt and pour if you want either white soap of opaque soap.
Titanium dioxide is used commercially in formulating sunscreens. Do not rely on homemade products for sun protection or make sun protection claims in your marketing, however. Sunscreens must undergo rigorous lab testing and FDA (or other governing body) certification in order to be considered effective. Titanium dioxide is useful in lightening cream cosmetics and lip products, however and is effective at creating opacity in lip products. You can experiment with adding a tiny amount of oil-dispersed titanium dioxide to mica-colored lip products to give them a more opaque look and make the mica color stand out more.
Coconut Carbon
Coconut Carbon
, also known as activated charcoal, is a natural way to color your products black. Elements sells both
Smooth Coconut Carbon
and
Exfoliating Activating Carbon
, if you want to make your products a little scrubby.
Coconut carbon is a great way to color cold process soap black. Pre-disperse one teaspoon of coconut carbon in 1 tablespoon of oil (1:3) ratio to color one pound of soap. You can double that for a richer black color. Like titanium dioxide, activated charcoal can speed up your trace. This soap was made using Coconut Carbon and Titanium Dioxide.
Coconut carbon can also be used in melt and pour soap. Pre-disperse 1 teaspoon of coconut carbon in 1 1 tablespoon of glycerin or isopropyl alcohol to color 1 pound of soap. You can add more or less, depending on your desired design.
Coconut carbon can be used in body products such as shower gels and scrubs, too. Try adding one teaspoon per pound of product and seeing how you like it. You can always add more if you like it. It's hard to imagine adding coconut carbon to a lip product, but it is safe to do so!
It is safe to use coconut carbon in bath bombs, but your tub is going to be terribly messy, even with the addition of polysorbate 80!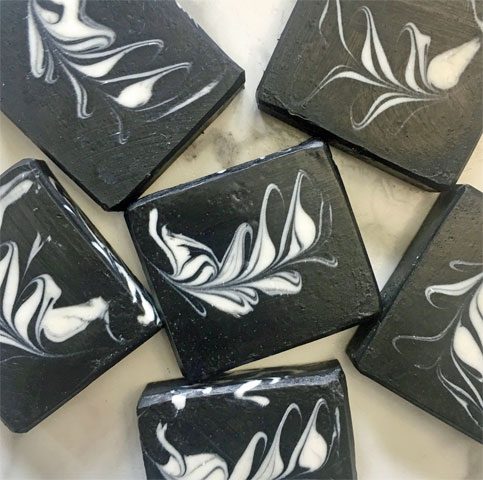 Clays
Clays
are a fun, natural way to give soaps and creams color and a nice feel. You can use clays exactly like you would use coconut carbon in cold process and melt and pour soap. You can mix a little mica with clays to brighten them up, if you wish. Clays have the additional benefit of giving your lather a nice slip. Some colored clays are darker than others, so add them sparingly at first. This soap was made using
Antique Rose Brazilian Clay
.
Clays can be used in body products, too. Be aware that adding clays to lotions and scrubs can make them difficult to preserve. Use Good Manufacturing Practices (GMP) and preserve your products at the maximum allowed rate. You will also want to eliminate any botanicals, honey or other difficult to preserve ingredients from your formula. Clays can be used in lip products, but the texture of your products will be quite unpleasant, so it's best avoided.
Clays are a great addition to bath bombs because they will make your recipe harder. If your recipe includes kaolin clay already, you can substitute ¼ of the total amount with a colored clay. You will want to use these sparingly because they can make your bath bombs surprisingly dark! If used sparingly (0.25%, or less), they won't stain your bath tub, either.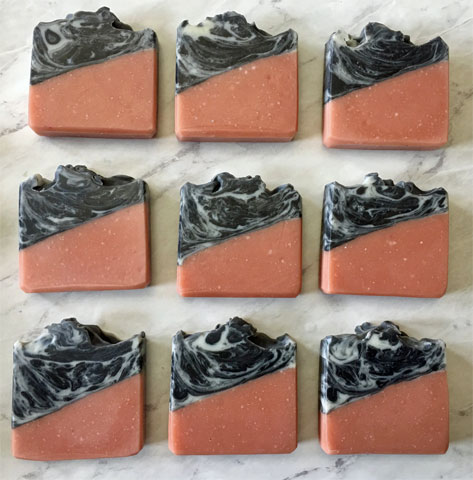 Water Soluble Liquid Colorant
Water soluble liquid colorants
are suitable for any product that contains water. They are non-staining and rinse cleanly away. You can add them drop-wise to cold process soap batters and melt and pour soap to achieve your desired shade. These colorants are quite concentrated, so less than half a teaspoon per pound should give you the desired shade. A few drops are all that are needed to color a pound of melt and pour soap.
Water soluble liquid colorants are the ideal way to color water-based body products including lotions, shampoos body washes and scrubs. Start with one or two drops per pound of product - a little goes a long way. These colorants are not suitable for anhydrous products such as lotion bars, lip balms or whipped body butters.
Water soluble liquid colorants are a perfect way to color bath bombs because they won't stain your tub. You can substitute any of the water you would use in your recipe with water soluble liquid colorant. For the brightest color, you can mix water soluble liquid colorant with 99% isopropyl alcohol as your wetting agent in your recipe. Be aware, that too much colorant will set off the reaction in your bath bombs similar to adding too much water. Our bath bomb recipes call for water soluble liquid colorant.
Products colored with water soluble liquid colorant should be stored away from direct sunlight to prevent fading. The liquid soap on the right was stored in a sunny window sill for one month while the soap on the left was stored on the other side of the room away from sunlight.