handmade sellers, the end goal is to sell your handmade items. In order to do this, you need to attract
customers to your table and they need to find what they are looking for quickly. We've put together ten tips to
step-up your visual merchandising to help attract customers and increase sales.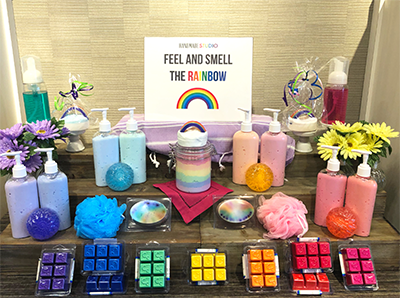 1) MAKE A STATEMENT

Statements or themes attract customers when the theme matches the customers' interest. For example, someone looking for children's gifts would be attracted to tables with rainbow statements. Someone looking for natural products would be attracted to a honey display. Think about what your customer is looking for and make a statement that attracts them.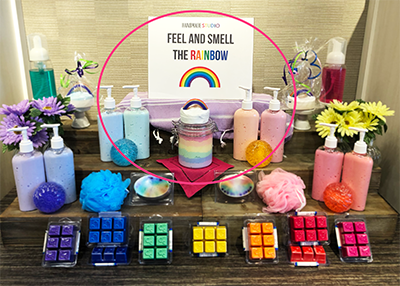 2) CREATE A FOCAL POINT

A focal point is where people will first look and it should adequately highlight your products and brand. Ask yourself, what am I selling that is most interesting to a customer? Make this your focal point. The skeleton of the focal point may be an interesting prop or shelving unit and then your highlighted product will be displayed on this prop or shelving. Once your focal point is established, build your other products around it.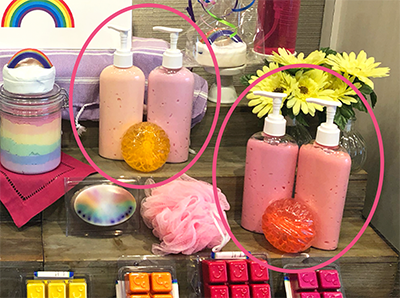 3) GROUP PRODUCTS.
Grouping products organizes merchandise so that customers quickly understand what is for sale and what options are available. If you only sell soap, then you may group the soap based on scents. If you sell a few different items, then group each type together such as lotions together, lip balms together, and bath fizzies together. Ultimately, target the groupings based on your ideal customer. If a budget-conscience customer is your target market, then organize by price point.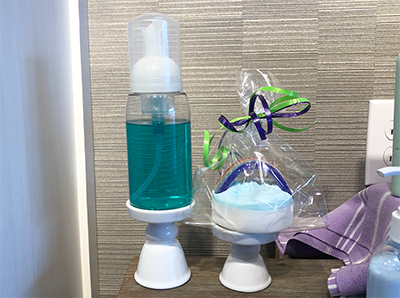 4) Incorporate height and dimension.
A visually interesting display has height and dimension. The display allows prospective customers to scope out your merchandise from a distance and when done correctly, it will attract them for a closer look. Use of display props is the easiest way to create height and dimension. Crates stacked on their sides build height as well as shelving with slanted bins or baskets. Other options include a-frame shelving, dump bins and step risers.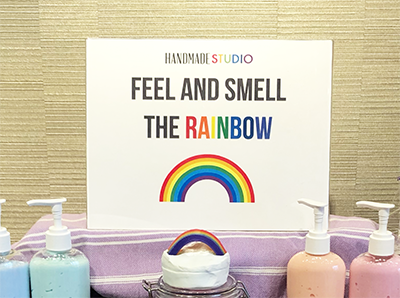 5. ADD SIGNAGE
Signs provide important information and clarify anything that could be confusing. Shoppers without cash will look for credit card signs or cash only signs before even browsing. If the customer is buying a gift, they may seek a sign for your return policy. Other signs clarify anything confusing. For example, if you sell soap cupcakes, you may want a sign that says "soap cupcakes" right next to the product. Soap cupcakes often look good enough to eat and you wouldn't want a customer to think it's a real cupcake. Picture frames are a useful tool for displaying signs.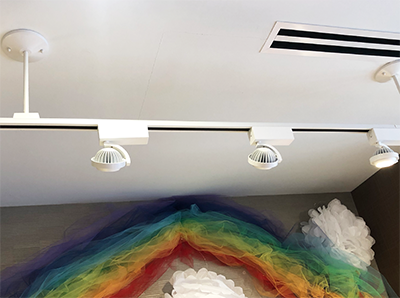 6) ILLUMINATE PRODUCTS.
Lighting literally shines light on your product. Make sure you have adequate overall lighting. When choosing your booth at a craft show, chose a booth with ample light and electricity. The table next to a large window with loads of natural light pouring onto you table is more likely to draw in larger sales than the table below a broken light fixture or in a dim corner. Another way to use lighting is to illuminate your focal point with accent lighting. Our eye is naturally drawn to the brightest area and it makes sense to draw your customers eye to where you want them to focus first.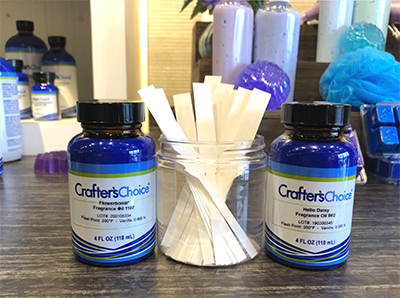 7) HARNESS ALL SENSES.
Appeal to all five senses. Think about what your customers see, hear, taste, feel and smell and find ways to touch these senses while matching your brand. Play music. If your brand boasts all-natural products made with pure essential oils, soft meditation-like music might appeal well to your market. When selling handmade cosmetics, open up a few samples so that customers can smell and feel the product. To appeal to your customers' tastes, include some free edible samples. For example, if your focal point includes new handmade hot cocoa scented soaps, consider placing a carafe of hot cocoa next to it and offer your customers free hot cocoa. This will hit on their taste and smell!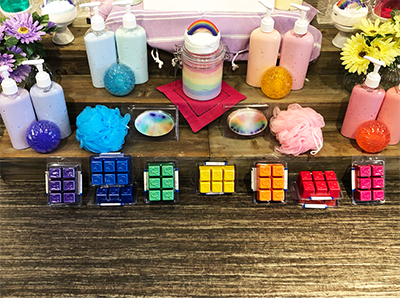 8) MAINTAIN A CLEAN TABLE.
Empty cardboard boxes, open food containers and unused display props all create clutter that detract from your display. Store empty boxes and unused props under the table or in your car to keep them out of sight. Avoid eating your lunch or dinner at your table too. A clean table speaks volumes on your professionalism.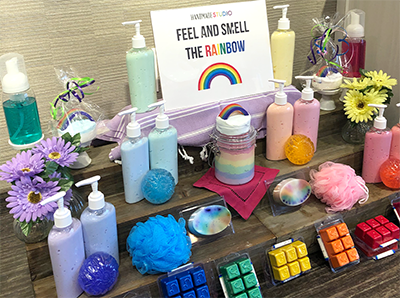 9) REFILL PRODUCTS.
Full tables sell and empty tables do not sell. Think about when you see empty tables at stores in the mall. The only times are when stores are going out of business or having a huge closeout sale. If you don't plan on going out of business and are not having a closeout sale, you'll want your table fully stocked. Make sure to bring ample products to refill your table as items are purchased. Also, it may be necessary to tweak your display as the show continues. If you sold out of everything in your focal point, change your focal point.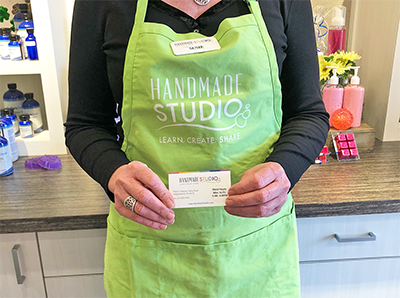 10) PROJECT YOUR BRAND.
It is important that all the small details add up to reflect your brand. What are you wearing to the show? What are your employees or helpers wearing? Are you smiling? You and your sales team are also part of the brand. Dress accordingly. Also, make sure important marketing pieces are available such as business cards, brochures and flyers.
Strong visual branding takes time and patience to execute. Make it a goal to improve on at least one of these tips each and every show to maximum sales!