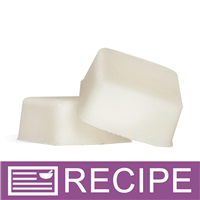 (Enlarge Image)
NOTE: If you are making these products for sale, good manufacturing practices recommend you wear a hairnet, gloves and a mask. We also recommend a clean apron and workspace.
To double boiler or metal pot add cocoa butter and heat until melted.
While the butter is melting, add sugar to a large mixing bowl.
Remove melted butter from heat source and let cool.
Add 8 ml. of fragrance oil and blend in.
When cocoa butter has cooled down to 120°F, combine the butter and the sugar.
Mix with a spatula or spoon until ingredients are blended completely.
Place the Brownie Bite silicone mold on a cookie sheet to give it stability when it is moved.
Fill each cavity with the butter/sugar mixture making sure they are packed tightly. Smooth off the top of each bath melt.
Place cookie sheet in the freezer for about 20 minutes.
Remove from mold. Place 4 sugar cubes into a cello bag and tie with raffia.
Label product accordingly.
To Use: Drop one bath melt into tub under running water or use in the shower as a gentle exfoliant.
WARNING: Be sure to add a warning to your label that this will make your tub slippery. Be sure to use a rubber bath mat on bottom of the tub
.
Ingredient Label:
Sugar, Cocoa Seed Butter, Fragrance.