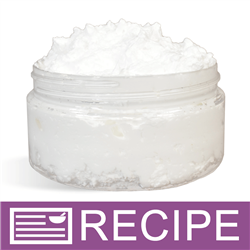 (Enlarge Image)
NOTE: If you are making these products for sale, good manufacturing practices recommend you wear a hairnet, gloves and a mask. We also recommend a clean apron and workspace.
To metal pot add Aloe Butter and Hemp Seed Oil and place over heat source. Heat just long enough to melt butter completely.
To separate measuring cup add Carrot Seed Extract, preservative and Bentonite Clay and set aside.
Empty both 16 oz. containers of Foaming Bath Whip into a large bowl.
Using a hand mixer, whip until soft and fluffy.
Add melted aloe butter and hemp oil mixture to bowl and mix well.
Add clay mixture along with fragrance oil and mix until completely incorporated.
Fill jars with product and place lid on jars.
Label accordingly.
TO USE: Apply to wet skin, shave and then rinse off any remaining product.
Ingredient Label:
Glycerin, Water, Sodium Cocoyl Isethionate, Sorbitol, Propylene Glycol, Disodium Lauryl Sulfosuccinate, Stearic Acid, Sodium Chloride, Aloe Butter, Carrot Seed Extract, Hemp Seed Oil, Bentonite Clay, Diazolidinyl Urea, Iodopropynyl Butylcarbamate, Methylparaben, Propylparaben, Fragrance.