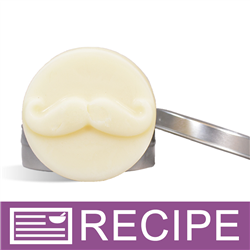 (Enlarge Image)
NOTE: If you are making these products for sale, good manufacturing practices recommend you wear a hairnet, gloves and a mask. We also recommend a clean apron, workspace and sanitized equipment.
To a metal pan, add Kokum Butter, Tucuma Butter and Beeswax.
Place on stovetop and heat over low heat until completely melted. Turn off heat source.
Slowly add Apricot Kernel Oil, Olive Oil and Jojoba Oil. Stir well.
Remove from heat. Once mixture cools to 155°F, add essential oils.
Carefully pour into mold filling to the top of each cavity. Let harden. Mold can be placed in refrigerator to speed up this process.
Remove from mold and package one solid mustache into a tin.
Label product accordingly.
To Use: Simply melt the bar in between your fingers and run it through your mustache, beard or even hair.
NOTE
: This product may melt in warmer weather. Keep out of cars or warmer areas to prevent melting. The beeswax can be increased slightly to make a harder bar for production in warmer climates.
Ingredient Label:
Kokum Butter, Tucuma Butter, Beeswax, Apricot Kernel Oil, Olive Oil, Jojoba Oil, Cedarwood Essential, Lavender Essential.