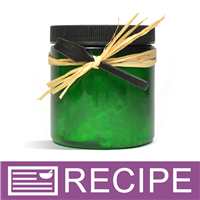 (Enlarge Image)
NOTE: If you are making these products for sale, good manufacturing practices recommend you wear a hairnet, gloves and a mask. We also recommend a clean apron.
To pot for stove or double boiler, add Cocoa Butter and Coconut Oil Heat just long enough to melt butter completely.
Set mixture aside and let set up at room temperature.
When butter and oil have solidified, add almond oil and essential oils.
Using a hand mixer, whip the mixture until soft and fluffy.
Add tapioca starch and aloe vera gel and mix well to incorporate.
Package 6.45 oz. of product in each 8 oz. Green Basic Plastic Jar and place lids on top.
Tie the black spatula to the jar using the raffia.
Label product accordingly.
TO USE: Apply a thin layer of shave butter to skin and shave as usual. This product will melt a bit as you use it. It is not necessary to clean your skin afterwards, however, if you wish you may use a warm, wet wash cloth and rinse the skin by pressing firmly. To clean razor, swish in a cup of warm water between strokes.
Ingredient Label:
Cocoa Butter, Water, Aloe Barbadensis Leaf Juice, Glycerin, Coconut Oil, Sweet Almond Oil, Carbomer, Tapioca Starch, Triethanolamine, Iodopropynyl Butylcarbamate, Diazolidinyl Urea, Rosemary Leaf Oil, Peppermint Oil.