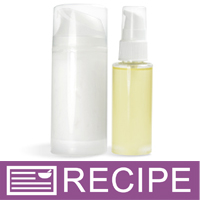 (Enlarge Image)
NOTE: If you are making these products for sale, good manufacturing practices recommend you wear a hairnet, gloves and a mask. We also recommend a clean apron and workspace.
For Pre-Shave Oil:
Using a scale, weigh 6 oz. of castor oil and pour into a glass measuring cup with spout.
Add 1.5 oz. of Olive Oil-Refined A and stir.
Mix 0.50 oz. (15 ml) Silk Amino Acids with 0.50 oz. Polysorbate 80 and add to oils.
Add 1.25 ml Botanical Extract 2 - for Oil and 2 ml Oakmoss Sandalwood fragrance oil. Stir well to incorporate all ingredients.
Pour into (4) 2 oz. cylinder round bottles. Dip tube will need to be trimmed to fit length of bottle before placing on treatment pumps.
Label product accordingly.
To Use:
Place a small amount of oil on your hands and rub into the beard. Be sure to wipe hands after applying as they will be greasy. Lather up with shaving cream or soap on top of the oil and shave as usual.
For After-Shave Moisturizer:
Empty contents of Gentle Face and Baby Cream jar into mixing bowl.
Add 7 ml Botanical Extract-Water Soluble and 5 ml Silk Amino Acids and blend into lotion.
Add 2.5 ml Oakmoss Sandalwood fragrance and mix well.
Fill 3.7 oz. airless pump bottles with lotion. You will need to leave about 1/4" empty at top of tube. This is space needed when the cap is placed on top.
Label product accordingly.
Package both products together into a cello bag and tie with raffia.
To Use
: Apply to face and neck after shaving.
Ingredient Label:
SHAVE OIL: Castor Oil, Olive Oil, Silk Amino Acids, Polysorbate 80, Sunflower Oil, Calendula Extract, Sunflower Extract, Aloe Extract, Irish Moss Extract, Marshmallow Extract, Fragrance. AFTER-SHAVE: Water, Cetearyl Alcohol, Ceteareth-20, Glycerin, Caprylic/Capric Triglyceride, Di C12-15 Alkyl Fumarate, Sunflower Oil, Isopropyl Palmitate, DMDM Hydantoin, Carbomer, Iodopropynyl Butylcarbamate, Aloe Barbadenis Leaf Juice, Tocopheryl Acetate, Calendula Extract, Sunflower Extract, Aloe Extract, Irish Moss Extract, Marshmallow Root Extract, Silk Amino Acids, Fragrance.