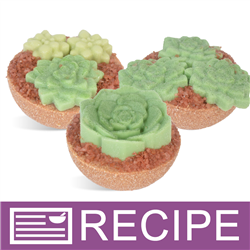 (Enlarge Image)
NOTE: If you are making these products for sale, good manufacturing practices recommend you wear a hairnet, gloves and a mask. We also recommend a clean apron and workspace.
SOAP EMBED: Using a microwave-safe container, add 4.5 oz. of cut up soap. Heat in microwave until melted.
Stir in Woodland Green pigment powder until completely blended and pour into all cavities of the silicone mold.
Once hardened, unmold and repeat above steps using the Martini Olive Green mica powder. Cover unmolded soaps with plastic wrap and set aside.
To a mixing bowl, add baking soda, citric acid, rhassoul clay and red and brown pigment colors. Blend with wire whisk.
Using a plastic beaker, mix fragrance and vanilla stabilizer. Set aside for two minutes. Drizzle over powder mixture and mix well with wire whisk.
Add Polysorbate 80 and Aloe Vera Oil. Mix until consistency of damp sand is achieved. Mixture should stick together when squeezed in palm of hand.
Fill one-half of metal bath bomb mold with mixture. Pack tightly and unmold onto cookie sheet. Repeat until all mixture has been used.
Allow bath bombs to harden for 24 hours or until hard enough to handle.
Once bath bombs are hard, melt cocoa butter in microwave.
Using a plastic dropper, cover the top or flat area with a thin layer of cocoa butter. This will act as the "glue" for the toppings.
Place succulent soaps on top of bath bomb as desired. You may need to coat the bottoms of the soaps with cocoa butter so that they stick.
Using a spoon, carefully sprinkle red salts into the empty areas on the bath bomb. Drizzle a small amount of cocoa butter on top of the salts to hold them in place.
Repeat until all bath bombs are decorated. Depending on the designs of the bath bombs, there may be leftover succulent soaps.
Allow to set for at least 24-48 hours to dry. Package as desired.
Label product accordingly.
To Use: Place bath bomb under running water to dissolve. Use soap embed to wash with.
Ingredient Label:
BATH BOMB: Baking Soda, Citric Acid, Cocoa Butter, Fragrance, Polysorbate 80, Aloe Vera Oil, Rhassoul Clay, Red Iron Oxide, Iron Oxides, Chromium Oxide, Mica, Titanium Dioxide, Sea Salt, Red Clay. SOAP EMBED: Sorbitol, Coconut Oil, Propylene Glycol, Stearic Acid, Water, Sodium Hydroxide, Glycerin, Coconut Milk, Titanium Dioxide.