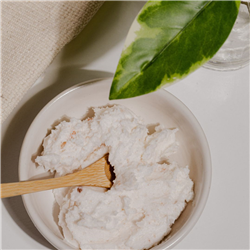 (Enlarge Image)
Add 5.8 oz Shea Butter, 1.9 oz Coconut Butter Blend, and 6.7 oz melted Coconut Oil to a large microwave-safe container (if Coconut Oil is solid, place bottle in hot water until melted).
Heat in Microwave on 50% power until butters are completely melted.
Place melted Butters and Oil into the refrigerator for 1.5 hours, or just until it starts to thicken. To speed this up, you can freeze the mixture for no more than 20 minutes. You don't want the Butters/Oil to completely solidify.
Using a hand mixer, whip until creamy.
Slowly add 15.4 oz White Sugar while continuing to whip.
Slowly add 2.5 oz FINE Pink Salts while whipping.
Add 0.4 oz Fragrance and 0.1 oz Preservative. Whip until blended.
Fold in 1.2 oz MEDIUM Pink Salts and mix by hand with a spatula.
Fill jars evenly.
Label accordingly.
To Use:
Massage scrub onto wet skin and rinse with warm water.
Ingredient Label:
Sugar, Coconut Oil, Shea Butter, Coconut Butter , Himalayan Sea Salt, Fragrance, Propylene Glycol, Diazolidinyl Urea, Iodopropynyl Butylcarbamate.