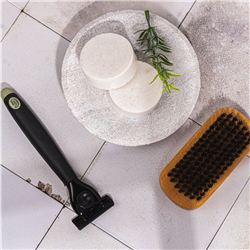 (Enlarge Image)
NOTE: If you are making these products for sale, good manufacturing practices recommend you wear a hairnet, gloves and a mask. We also recommend a clean apron and workspace.
(We recommend using a mask when working with lathanol powder. It is a very fine powder and becomes airborne very quickly.)
To large measuring cup, add 16 oz. cut up Shea Butter Soap and heat in microwave until completely melted.
Place soap molds on jelly roll pan and set aside.
Add 0.50 oz. Fragrance to melted soap and mix.
Add 1 oz. Clay* and 0.50 oz. Lathanol to a clean measuring cup.
To this measuring cup, add enough melted soap to dry ingredients to make a paste. When there are no clumps remaining, add back to the rest of melted soap and mix together.
Pour soap into mold cavities and spritz with rubbing alcohol. Allow soap to harden completely and then remove from molds.
Repeat steps 1 through 7 to make remaining soaps.
Package 3 bars of soap in a Cello Bag and tie with Raffia.
Label accordingly.
To Use: Lather onto wet skin using hands or brush. Shave as usual.
*6/2018 - Due to the unavailability of kaolin clay, we have substituted bentonite clay in this recipe. The product will be slightly darker in color than the picture shows
.
Ingredient Label:
Glycerin, Propylene Glycol, Water, Sodium Cocoate, Sodium Stearate, Sorbitol, Bentonite Clay, Sodium Myristate, Shea Butter, Titanium Dioxide, Fragrance, Sodium Lauryl Sulfoacetate.