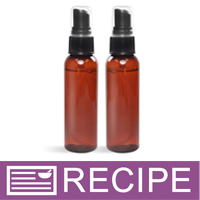 (Enlarge Image)
NOTE: If you are making these products for sale, good manufacturing practices recommend you wear a hairnet, gloves and a mask. We also recommend a clean apron and workspace.
Into a glass measuring cup, empty the entire 16oz. bottle of Sandalwood Hydrosol.
Add 12 ml of Botanical Extract Blend 1 - Water Soluble. Mix gently to incorporate ingredients.
Divide product into 8 - 2 oz. amber bullet bottles.
Trim dip tubes on black sprayers to fit the length of the bottle. Screw onto bottles.
Label product accordingly.
To Use: After washing, hold bottle about 8 inches from face. Lightly spritz keeping away from eye area. Let dry.
Ingredient Label:
Sandalwood Water, Water, Glycerin, Calendula Extract, Sunflower Extract, Aloe Extract, Irish Moss Extract, Marshmallow Root Extract.