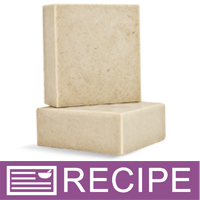 (Enlarge Image)
NOTE: If you are making these products for sale, good manufacturing practices recommend you wear a hairnet, gloves and a mask. We also recommend a clean apron and workspace.
Place silicone mold on cookie sheet for stability.
To microwave-safe measuring cup, add 39 oz. of cut up oatmeal soap. Heat in microwave in 30 second increments until completely melted.
To small container, add safflower oil and bentonite clay. Mix or whisk well so there are no remaining clumps of clay.
To plastic beaker, add Tea Tree Essential Oil and London for Men fragrance oil.
To melted soap, add oil/clay mixture and fragrances. Stir or gently whisk until well blended.
Fill mold cavities with soap. Spritz tops of soap to dissolve air bubbles. Let soap harden.
Remove from mold and package as desired.
Label product accordingly.
NOTE: Many do not like the smell of Tea Tree but London for Men is strong enough that it will mask the odor. If you like the smell of Tea Tree, the fragrance would not be necessary. You can increase the Tea Tree to 1% or 11.25 ml.
To Use: Lather onto wet skin and rinse off.
Ingredient Label:
Propylene Glycol, Sorbitol, Water, Sodium Stearate, Sodium Laureth Sulfate, Sodium Myristate, Oats, Bentonite, Silica, Triethanolamine, Titanium Dioxide, Safflower Oil, Fragrance, Tea Tree Essential Oil.