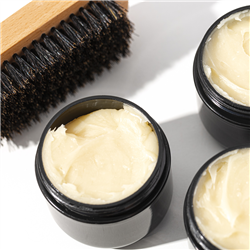 (Enlarge Image)
NOTE: If you are making these products for sale, good manufacturing practices recommend you wear a hairnet, gloves and a mask. We also recommend a clean apron and workspace.
Prepare an ice water bath by adding cold water and ice cubes to a large glass bowl.
To a metal pot for stove top or double boiler, add Beeswax, Safflower Oil and Castor Oil.
Heat over low heat until beewax has completely melted. Turn heat off but leave pan on stove. Add Slick-Fix to mixture stirring with a wire whisk until well blended.
Stir in Vitamin E, ginseng extract and essential oils.
Place metal pot into ice water bath so pot is surrounded by water and ice. Be sure water does not get into metal pot.
Stir melted wax/oils with spoon or spatula until mixture thickens and becomes like a paste.
Fill jars with approximately 1.50 oz. by weight. Apply lids.
Label product accordingly.
To Use: Work a small amount of pomade evenly through dry or towel dried hair and beard. Style as desired.
Ingredient Label:
Safflower Oil, Castor Oil, Beeswax, Vitamin E, Ginseng Extract, Tapioca Starch, Cedarwood Essential Oil, Fir Needle Essential Oil.