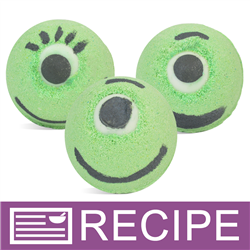 (Enlarge Image)
NOTE: If you are making these products for sale, good manufacturing practices recommend you wear a hairnet, gloves and a mask. We also recommend a clean apron and workspace.
Melt 0.25 oz. of black color block. Carefully pour 9 nickel size amounts in soap mold for "pupil" part of eyeball soap. Allow to harden.
Cut up and melt 5 oz of white soap. Make sure the temperature of the soap is no higher than 125°F, then spray black layer of soap with rubbing alcohol and fill remaining amount of mold with white soap. Spritz tops with alcohol. Let soap completely harden.
Once hardened, unmold and set aside.
Add baking soda, citric acid and arrowroot powder to large bowl and mix well.
Melt mango butter and lemon butter in microwave and add to bowl.
Add blue and yellow powder to mixture and mix well.
Add fragrance and mix.
Slowly drizzle in Shea 50, about 0.50 oz, and mix completely until mixture reaches proper consistency. Mixture should stick together when squeezed in palm of hand. Set remaining Shea 50 aside and use later if mixture begins to dry.
Place one eyeball soap in one half of bath bomb mold. Fill remainder of mold with bath bomb mixture. Fill other half of mold with mixture. Mound the mixture slightly and press both sides together tightly. Remove one side of mold and brush off excess. Place back on other half of mold.
Set filled molds on bubble wrap to harden.
Allow to harden for 24 hours, and then remove from molds.
Melt 0.2 oz. of color block in microwave. Add in a small amount of glycerin to help keep the color liquid.
Using a small child's paintbrush, paint monsters' faces as desired. Remelt soap, as needed, while painting. Set aside to dry.
Package as desired.
Label product accordingly.
To Use: Drop in warm bath. Soak in warm water.
Ingredient Label:
Bath Bomb: Baking Soda, Citric Acid, Arrowroot Powder, Mango Butter, Shea 50, Lemon Butter Blend, Fragrance, Yellow 5 Lake, Blue 1 Lake. Soap: Sodium Cocoate, Sodium Palmate, Sodium Safflowerate, Glycerin, Water, Sorbitol, Propylene Glycol, Sorbitan Oleate, Avena Sativa Protein, Sodium Stearate Titanium Dioxide. Mica, Iron Oxide.