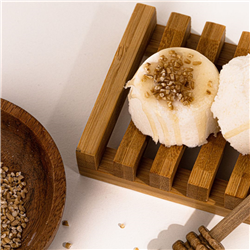 (Enlarge Image)
NOTE: If you are making these products for sale, good manufacturing practices recommend you wear a hairnet, gloves and a mask. We also recommend a clean apron.
Set mold on a cookie sheet for stability. This will also allow for an easier clean up. Set aside until ready to use.
Measure the baking soda, citric acid, arrowroot and yogurt powder. Place into mixing bowl and mix well. If you find these have clumps, a sifter will allow you to break up the clumps and better blend the ingredients.
Melt the Soy Butter on low heat in a microwave-safe dish and add that to the dry mixture and drizzle it around.
Using a plastic dropper, add 0.5 oz. fragrance oil by drizzling into different locations of the mixture. Do not pour all of fragrance into one location of the bowl.
Using a whisk or fork, mix well by breaking up lumps of fragrance oil.
Once the mixture is moist enough to stick together, press a few tablespoons of the mix into the mold cavity. Press firmly. Fill the cavities of both soap molds with the mixture.
These bath fizzies are softer so we recommend letting them sit for 24 hours before unmolding.
Once you have unmolded your bath fizzies, set them on a cookie sheet.
Place 1/2 cup of oats into a blender and quickly chop for 5-10 seconds. You do not want to turn the scrub into a powder but you do want it to be a finer texture.
Melt 6 ounces of Honey soap.
Sprinkle the oats across the top of each fizzie and then drizzle the honey soap across the top of each fizzie over the oats. Allow the soap to dry.
After the soap has set up over the oatmeal, package your bath fizzies.
We recommend using a 3.5" x 5" Crystal Cello Bag. Lay the bag on a table with the opening on the side. Place a plain white 3 x 5 index card into the bag. Lay 4 bath fizzies on the top of the index card (trim card if it is too large). Fold over extra and tape to the back. Tie with raffia to finish it off.
Label product accordingly.
To Use: Place one fizzy into bath water.
Ingredient Label:
Baking Soda, Citric Acid, Soybean Oil, Arrowroot Powder, Oats, Yogurt Powder, Sorbitol, Propylene Glycol, Sodium Laureth Sulfate, Stearic Acid, Water, Sodium Hydroxide, Myristic Acid, Lauric Acid, Honey, Fragrance.