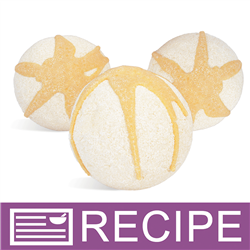 (Enlarge Image)
NOTE:
If you are making these products for sale, good manufacturing practices recommend you wear a
hairnet, gloves and a mask. We also recommend a clean apron and workspace.
To stand mixer, add 16 oz. baking soda, citric acid, and honey powder. Mix on low. Can also be mixed by hand.
In beaker, mix fragrance and stabilizer and set aside for two minutes. Add to stand mixer while mixing.
Mix 0.10 oz. mica with polysorbate 80 and add to stand mixer.
While stand mixer is on, slowly add honeyquat until powders are wet enough to hold together when squeezed with hand.
Mold with metal mold and place on bubble wrap.
Allow bath bombs to harden overnight.
To measuring cup, add cocoa butter and melt in microwave. Add 1.50 oz. baking soda and 0.05 oz. gold mica. Mix well.
Drizzle on top of each bath bomb and allow it to harden.
Package and label as desired.
To Use:
Drop into bath tub and soak.
Ingredient Label:
Baking Soda, Citric Acid, Honey Powder, Cocoa Butter, Fluorphlogopite, Titanium Dioxide, Iron Oxide, Tin Oxide, Polysorbate 80, Honeyquat, Fragrance.