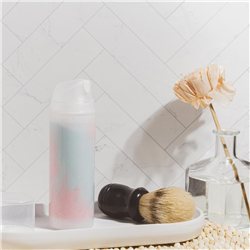 (Enlarge Image)
NOTE: If you are making these products for sale, good manufacturing practices recommend you wear a hairnet, gloves and a mask. We also recommend a clean apron and workspace.
Weigh 0.5 oz. Olive Butter and 0.5 oz. Hemp Seed Oil and place both in the double boiler or small pot and place over heat source.
Heat just long enough to melt butter completely.
Meanwhile, measure 0.5 oz. Chamomile Extract, 5 ml Preservative and 1 Tbsp. Kaolin Clay and place in bowl.
Empty one 16 oz. container of Foaming Bath Whip into one of the large bowls.
Add the melted butter and oil mixture to bowl and mix well to incorporate.
Add blended mixture from step 4 and mix well to incorporate.
Add 7.5 ml fragrance to bowl and mix well.
Add 1/4 tsp. Pink mica powder to bowl and mix well.
Fill a piping bag or zip close bag with the pink shaving cream and set aside.
Repeat steps 2-8
Add 1/2 tsp. Blue mica powder to second bowl and mix well.
Fill a piping bag or zip close bag with the blue shaving cream.
Line up the 5 oz. airless pump bottoms for easy filling.
Snip off the tips of each piping bag and fill each tube with both colors at the same time. (This will create the swirl effect in the product picture).
Tap each bottle on the table to help the shaving cream settle and top off if needed. Cap and enjoy.
To Use: Lather shave cream onto skin and shave. Rinse off with warm water and pat dry.
Ingredient Label:
Glycerin, Water, Sodium Cocoyl Isethionate, Sorbitol, Propylene Glycol, Disodium Lauryl Sulfosuccinate, Olive Butter Blend, Chamomile Extract, Hemp Seed Oil, Kaolin, Stearic Acid, Sodium Chloride, Diazolidinyl Urea, Iodopropynyl Butylcarbamate, Mica, Titanium Dioxide, Ultramarine Blue, Iron Oxide.