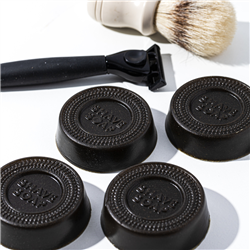 (Enlarge Image)
NOTE: If you are making these products for sale, good manufacturing practices recommend you wear a hairnet, gloves and a mask. We also recommend a clean apron and workspace.
To a microwave-safe measuring cup, add 24 oz.
Pour about 2 oz. of melted soap into a small bowl. Add 0.10 oz. of Sea Clay into bowl. Using Mini-Mixer, mix the powder well into the melted soap. Pour back into larger bowl of soap and stir to incorporate.
Add 0.05 oz. of Basil Powder, 0.40 oz. glycerin and 10 ml of fragrance oil and mix well.
Checking that the soap temperature is around 135° F, pour soap into the 4 cavities of each mold. Spritz the top with rubbing alcohol to release any surface bubbles and set aside to harden.
Once soap has completely set up, turn molds over and gently press on each cavity to remove the soaps. If soaps do not easily unmold, place in freezer for 30 minutes.
Wrap or package soap as desired.
Label product accordingly.
To Use: Lather onto wet skin and rinse off with warm water.
Ingredient Label:
Sorbitol, Propylene Glycol, Sodium Laureth Sulfate, Stearic Acid, Lauric Acid, Water, Sodium Hydroxide, Coconut Oil,Glycerin, Argan Oil, Shea Butter, Silk Amino Acids, Honey, Bamboo Extract, Sunflower Extract, Sea Clay, Fragrance, Aloe Leaf Extract, Carrageenan Extract, Marshmallow Root Extract, Basil Powder.