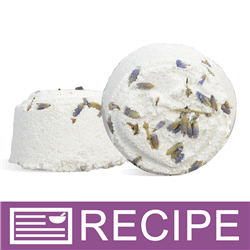 (Enlarge Image)
NOTE:
If you are making these products for sale, good manufacturing practices recommend you wear a hairnet, gloves and a mask. We also recommend a clean apron and workspace.
Place plastic molds on cookie sheets. Add a small amount of lavender buds to the hearts on each mold.
To large mixing bowl add baking soda, citric acid and kaolin clay. Mix well with gloved hands, breaking up any clumps in the powder.
Using plastic dropper, drizzle essential oils over dry mixture.
To plastic beaker, add hydrosol and rubbing alcohol. Drizzle over mixture while blending in with gloved hand.
Press the mixture firmly into 15 mold cavities.
Let set for at least two hours, then unmold. Let set overnight.
Add three facial steamers to each cello bag and tie with ribbon.
Label product accordingly.
To Use:
Place one steamer into bowl of very hot water. Put your face right above the bowl, place a towel over your head and gently breathe in the lavender scented steam. If desired, bottle the remaining water and use as a face spritzer. The water can be kept in refrigerator for up to one week.
Ingredient Label:
Baking Soda, Citric Acid, Kaolin Clay, Lavender Water, Lavender Essential Oil, Geranium Essential Oil, Lavender Buds.