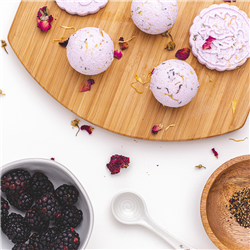 (Enlarge Image)
NOTE:
If you are making these products for sale, good manufacturing practices recommend you wear a hairnet, gloves and a mask. We also recommend a clean apron and workspace.
In large bowl, add citric acid, baking soda and coconut milk powder. Use wire whisk to combine ingredients.
To small bowl, add shea butter. Heat in microwave until melted.
Add apricot kernel oil and fragrance oil to melted butter and stir. Drizzle onto powders while using whisk to mix.
Add purple mica powder and bath tea. Stir well with gloved hands.
Squeeze mixture in palm of your hand. If the mixture sticks together, it is ready to be molded. If the mixture is too dry and crumbly, spritz with rubbing alcohol until mixture sticks together.
Place mixture into both sides of mold. Add enough so the tops are mounded over. Push them together. Place on bubble wrap or egg cartons to dry.
Continue until all 18 bath bombs have been made.
Let fizzies harden and dry for 24-48 hours.
Once hard, remove from molds.
Package two bath fizzies into each organza bag.
Label accordingly.
To Use:
Drop into warm bath water. Soak in tub.
Ingredient Label:
Baking Soda, Citric Acid, Rose Flower, Hibiscus Flower, Chamomile Flower, Lavender Flower, Calendula Flower, Orange Peel, Apricot Kernel Oil, Shea Butter, Fragrance, Coconut Milk, Mica, Iron Oxides, Titanium Dioxide.