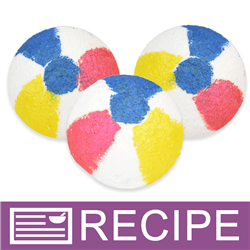 (Enlarge Image)
NOTE:
If you are making these products for sale, good manufacturing practices recommend you wear a hairnet, gloves and a mask. We also recommend a clean apron and workspace.
Put bubble wrap on cookie sheet.
To mixing bowl, add 32 oz. baking soda, 16 oz. citric acid, 1/4 tsp. Shimmering White Clouds Mica, and 2 oz. arrowroot powder. Mix with whisk.
Into a plastic beaker, measure the 1.50 oz. fragrance oil.
Into a second plastic beaker, measure the 1.00 oz. Shea 50.
Drizzle the fragrance oil into the baking soda mixture a little at a time while mixing with gloved hands to incorporate.
Drizzle Shea 50 into bowl and then mix well with gloved hands.
Add mixture into stainless steel bath bomb molds, push two sides of mold together and remove the bath bomb from mold. If bath bomb falls apart, add a little more mixture to the mold.
Place finished bath bombs on cookie sheet covered in bubble wrap.
Allow bath bombs to harden overnight.
Add 1/4 tsp. Coral Orange Reef Mica and 2 tsp. of rubbing alcohol to beaker. Mix well. Mix NuTone Yellow in same manner in a separate beaker.
Mix Bath Bomb Blue powder along with 1/2 tsp. White Clouds mica powder in another beaker.
Using a paintbrush, paint bath bombs to look like beach balls. Try not to use too much "paint" as this will make it difficult to dry. Make more color mixture if needed
Set bath bombs aside to dry. This may take a few hours.
Package in cello bags and tie with ribbon.
Label product accordingly.
To Use:
Place bath bomb into bath water and watch the colors spin.
NOTE: Overhandling may cause the color to come off on skin or clothing.
Ingredient Label:
Baking Soda, Citric Acid, Arrowroot Powder, Fragrance, PEG-50 Shea Butter, Synthetic Fluorphlogopite, Titanium Oxide, Mica, Titanium Dioxide, Tin Oxide, Iron Oxide, Tin Dioxide, Blue 1 Lake.