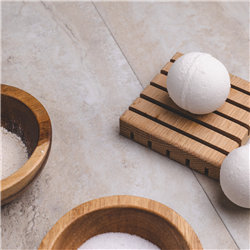 (Enlarge Image)
In a large mixing bowl, combine 25.80 oz Baking Soda, 13 oz Citric Acid, and 0.40 oz White Kaolin Clay. Using a whisk or your hands, gently mix. Be sure to break up any clumps.
In a separate container, combine 0.40 oz Shea 50 and up to 1% (0.40 oz) Fragrance Oil if desired.
Slowly pour the liquid ingredients into the dry ingredients and mix thoroughly.
Begin spritzing your mixture with Rubbing Alcohol until it looks and feels like wet sand and holds together when squeezed. Continue spritzing until you reach the right texture.
Once you have the right texture, fill each half of the clamshell mold, packing it tightly. Press the halves together firmly. If the halves won't stick together, spritz them with a little rubbing alcohol. Once the halves stick together you can remove the top half of the mold, brush off any excess mixture around the edge, and place the top back on.
Let bath bombs harden for at least 2 hours before removing from molds. Remove and place on bubble wrap or in egg cartons to prevent flat bottoms. Fizzies should be completely hardened after 12-24 hours. You can also leave them in the molds to harden then use the clamshells as packaging!
Package as desired and label accordingly.
To Use:
Add bath bomb to warm water and relax.
PLEASE NOTE:
Shea 50 may make tub slippery. Take care when entering and exiting the bath.
Ingredient Label:
Baking Soda, Citric Acid, Kaolin, Fragrance, PEG-50 Shea Butter