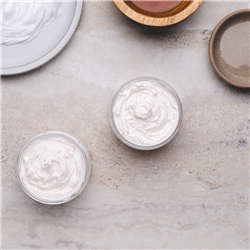 (Enlarge Image)
Add 37.40 oz Foaming Bath Whip to a large mixing bowl. Using a hand or stand mixer, whip for about 5 minutes until fluffy. Bath Whip should resemble marshmallow fluff.
Add 1.80 oz MCT and mix well.
If desired, add up to 1% (0.40 oz) Fragrance Oil and mix.
Add 0.20 oz Vitamin E and 0.20 oz Preservative. Mix well.
Continue to whip until product reaches desired fluffiness (3-5 minutes)
Fill jars with approximately 3.25 oz by weight.
Apply lids and label accordingly.
Ingredient Label:
Glycerin, Water, Sodium Cocoyl Isethionate, Sorbitol, Propylene Glycol, Disodium Lauryl Sulfosuccinate, Stearic Acid, Sodium Chloride, Diazolidinyl Urea (and) Iodopropynyl Butylcarbamate, Medium Chain Triglycerides, Vitamin E, Fragrance