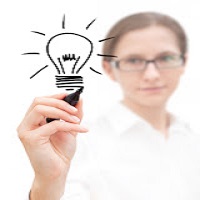 When entrepreneurs talk about chasing the dream, we are not talking about a fantasy, like winning the lottery. We are talking about the things that really matter to us and what we are willing to do to make our dream a reality. But it's one thing to have an idea that you're really passionate about, and another to have a concept that's also practical, strategic and profitable.

I once spoke with Marcia Wieder, who is known as America's Dream Coach and has been the catalyst for turning dreams into reality for thousands of people over the past 20 years. "The ideal professional dream is to be paid well for doing what you love," Marcia told me. "I think that sometimes people forget that we need to marry the two ideals, passion and strategy, to achieve success."

But for entrepreneurs who aren't bringing home the paycheck of their dreams it's often difficult to come up with the new idea and strategy that will change your plight. Therefore, most people either give up on their dreams or compromise them down to what they think is realistically possible and neither creates a desirable outcome. The alternative is to gain clarity on what we really want and explore other ways to make the dream a reality. That often means shifting gears a bit, or as I like to say, thinking without a box!
If what you are doing isn't working, then it's definitely time to shift those gears! Too many entrepreneurs live a life of struggle, especially solopreneurs and micro-business owners. Here are a few indications that it's time to get out of the box and realize that you have a whole world of choices before you. Keep in mind that these vary depending on the size and type of your business.
You can't pay yourself well for what you do—worse yet, you continue to pour money into your business with little or no return
You no longer enjoy what you do
There is not a market-need, or it has shifted significantly
There is a constant imbalance between work and your personal life
So how do you figure it out? That question is usually best answered by engaging with mentors, coaches, peers, or your board of advisors. (Yes, even solopreneurs get to have a board of advisors!) You see, it's really difficult to remove yourself from your beliefs, preconceived notions, and way of thinking in general. Brainstorming with someone who isn't involved in, or doesn't even know, your business helps you to see it from another perspective. It's a pretty remarkable experience if you open your mind to the possibilities.
The trick? Just like any brainstorming session, there are no bad ideas. Get everything down on paper or a mindmap and narrow it down later. Enjoy the process and remove the boundaries!
I often suggest to coaching clients that they get away for a weekend, or a whole week if necessary, to explore their new ideas. Doesn't that sound decadent? It will be just you and your ideas; alone with a pad of giant-sized sticky note paper, markers and your imagination. And it works! All you really need is one new idea. Sure, that one idea may feel overwhelming, but continue to work away from your normal environment and with your champions to create the strategy to take it to the next level.
American's Dream Coaches advice? "Extraordinary things happen when we take action on what matters to us the most. Do what you love, value your gifts, charge what you are worth, have powerful enrollment conversations – and repeat often!"