Directions:
NOTE: If you are making these fragrances for products that will be sold, good manufacturing practices recommend you wear a hairnet and gloves. We also recommend a clean apron and workspace.
Using a pen, write Mint on eight blotter sticks. Repeat with Champagne, Chocolate, Raspberry, Balsam Pine, and Vanilla. Write Blending Blinder on remaining two sticks. (Option: Use labels to label sticks.)
Layout the blotter sticks on pig paper or paper towels to protect your countertop.
Using dropper, squeeze one drop of mint fragrance onto all mint blotter sticks. Using clean droppers, drop each fragrance oil and blending binder to corresponding blotter sticks.
Test out fragrance blends by fanning ten blotter sticks by your nose. Swap out sticks to perfect the scent. Write down your favorite smells by noting how many sticks of each were used to make the scent. See below for suggested blends.
Choose a scent to make.
Multiply the number of sticks by 6 to calculate how many milliliters are needed to make a two-ounce bottle of your custom scent. For example, if your scent is 5 sticks Champagne, 4 sticks Vanilla and 1 stick Balsam Pine; you would need 5x6=30 ml Champagne fragrance, 4x6=24 ml Vanilla fragrance and 1x6=6 ml Balsam Pine fragrance.
Using droppers, measure the quantities in step six into a beaker and then pour into one amber bottle.
Choose three more scents to create three more bottles. (We chose to make Sleigh Day, Winter Wonderland, Vanilla Snowflake and Chocolate Covered Raspberries.)
Label new fragrance bottles with the name of the custom scent.
Use new fragrance blends in your next soap or cosmetic recipe!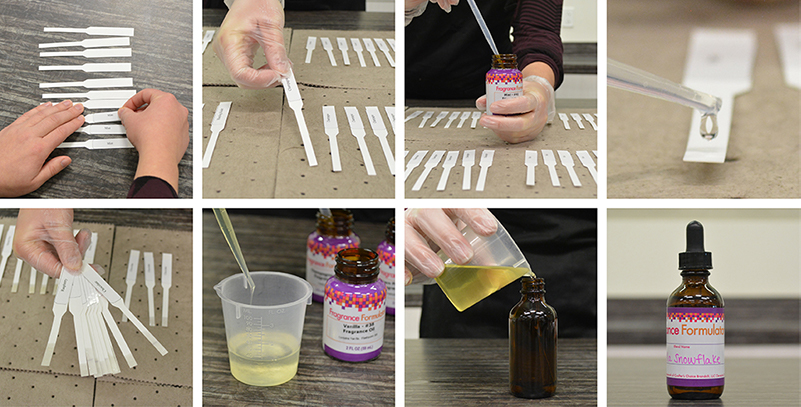 Suggested Fragrance Blends
Beginner Blends

Raspberry Truffle
6 Chocolate, 4 Raspberry

Champagne Rosé
8 Champagne, 2 Raspberry

Winter Berry
8 Raspberry, 2 Balsam Pine

Crisp Winter
6 Mint, 4 Balsam Pine

Hot Cocoa
6 Chocolate, 4 Vanilla
Intermediate Blends

Winter Wonderland
6 Mint, 3 Vanilla, 1 Balsam Pine

Frosted Berry
4 Vanilla, 3 Raspberry, 3 Mint

Apline Ice
5 Mint, 3 Vanilla, 2 Balsam Pine

Peppermint Hot Cocoa
5 Chocolate, 3 Mint, 2 Vanilla

Cocoa Rosé
4 Champagne, 3 Chocolate, 3 Raspberry

Vanilla Snowflake
5 Champagne, 4 Vanilla, 1 Balsam Pine

Raspberry Bellini
5 Champagne, 4 Raspberry, 1 Vanilla
Advanced Blends

Sleigh Day
4 Chocolate, 3 Balsam Pine, 1 Vanilla, 1 Mint, 1 Raspberry

Blizzard
7 Mint, 1 Balsam Pine, 1 Chocolate, 1 Blending Binder

Chocolate Covered Raspberries
4 Chocolate, 3 Raspberry, 2 Blending Binder, 1 Vanilla

Snow Angel
5 Champagne, 3 Vanilla, 1 Mint, 1 Blending Binder

Iced Champagne
5 Champagne, 2 Mint, 1 Balsam Pine, 1 Chocolate, 1 Vanilla

Dirty Snowman
4 Chocolate, 3 Champagne, 2 Blending Binder, 1 Balsam Pine